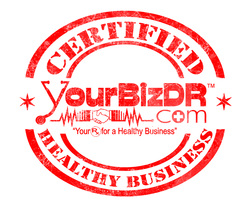 After more than twenty years of helping clients around the world and experiencing a multitude of cultures along with making friends on all the worlds continents, technology has finally evolved to a point where I can share my experience without leaving my family. YourBizDr.Com has been designed to incorporate all that we have learned and developed over the past twenty plus years, into a single website that gives flexibility and efficiency to business owners, managers and employees twenty four hours a day, three hundred and sixty-five days a year.

As we begin this new journey, we will be sharing our experience, both successful and unsuccessful in an effort to bring objective business consulting to as many business people we can reach. YourBizDr builds on our long standing belief that business is built by an integration of; People, Process and Technology. And that by applying an objective approach of organization through procedures, policy and common sense, businesses can be successful and rewarding for everyone.

As we begin to share our insight and experience, we hope to provide information and support to all who seek it. Our Blogs, Twitter and Social Medial efforts aim to provide basic yet effective tools to those who wish to learn without joining our member based programs. Our YourBizDr.com site and use of tools like our proprietary BizVision Management System and large library of business policy, procedures and documents, will surely be a vast resource to those who wish to engage us for our knowledge and objective guidance.

A BizDr is not just a single event support person, location or web page. A BizDr offers those who seek business guidance, access to Management Consultants, Marketing Consultants, Human Resource Consultants, Accounting Consultants, IT Consultants, Graphic Designers, Business Tools, Business Support Sites and a community of business people where business issues and ideas can be shared with peers and experts in a confidential and secure place.

We look forward to bringing a new age in consulting to the Internet and sharing through this Blog experiences, stories and information that will benefit business people around the world.